Creekstone Press Publications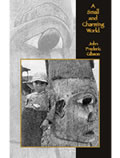 A Small and Charming World
Description: Paperback, 5.5" x 8.5", 216 pages, maps
ISBN: 0-9684043-4-0
Price: $18.95
When first published in 1972, John Frederic Gibson's A Small & Charming World was described by the critics as a compelling portrait of life in British Columbia's First Nations communities and a plea for cultural understanding and acceptance.
Today, thirty years later, his words are even more poignant as all Canada grapples with the Nisgaa and Delgamuukw decisions.
In this redesigned edition, with a new foreword by two First Nations leaders, Gibson takes us from Fort Babine and Kitsegukla in BC's northwest to Nootka and Nuchatlitz on the coast, telling the stories of a determined and resilient people in daily conflict with the forces of assimilation.
And these are Gibson's stories too. As a government social worker in the 1960's and 70's, he is repeatedly frustrated by the ambivalence and ethnocentricity of his own employers.
Already a seasoned traveller and writer when he moved to British Columbia from England in 1958, Gibson spent the next several years immersed in the life of the province's indigenous people. His account of those years is an elegant and prophetic piece of literature and a template for cultural harmony.