Creekstone Press Publications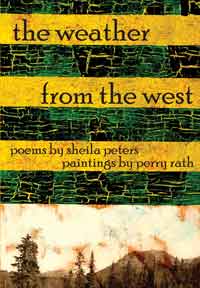 the weather from the west
Description: Trade paperback, 5.5" x 8", 96 pages, 23 colour images
ISBN: 978-0-9783195-0-2
Price: $24
Over many years, Sheila Peters has been writing poems reflecting the diverse experiences, both here and away, that have made the Bulkley Valley her home as a writer. Recently she shared many of those poems with visual artist Perry Rath. This synergistic collaboration reflects the depth of the physical, spiritual and emotional worlds of these two artists and reveals those places where their visions intersect.
According to Peters, "Perry's paintings create an opening to that still place where an exchange is possible … where we are able to experience the same quiet intensity felt at the way a willow twists upon itself or the creek turns upon a stone."
In his work on the weather from the west, Rath prefaced each painting session by reading some of the poems out loud "to fill the space with Sheila's language and imagery, then let these settle from the air into my paintings."
From the mountain ridges and aspen forests of the eastern Skeena River watershed to the ancient alleys of Kathmandu, these two travellers explore the interplay of absence, presence and renewal in the landscape, the heart and the mind.
Here then, with a selection of 42 poems and 23 paintings, Peters and Rath share their yearning to fully inhabit place and time and give them voice and shape.