Creekstone Press Publications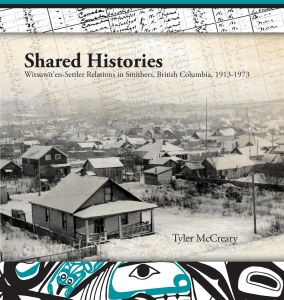 Shared Histories
Description: This trade paperback is 9.5 inches by 9 inches, 264 pages long with maps, black & white photographs, references and an index.
ISBN: 978-1-928195-04-7
Price: $24.95
Shared Histories looks deeply into what happened at the intersection of settler dreams and Witsuwit'en reality in the small northwestern British Columbia town of Smithers. Planted in a swamp at the base of a mountain, this railway town tried to exclude the region's first inhabitants. This collection of hidden histories reveals how generations of Witsuwit'en made a place for themselves in town despite local, provincial, and national efforts push them, and indeed all Indigenous peoples, to the fringes.